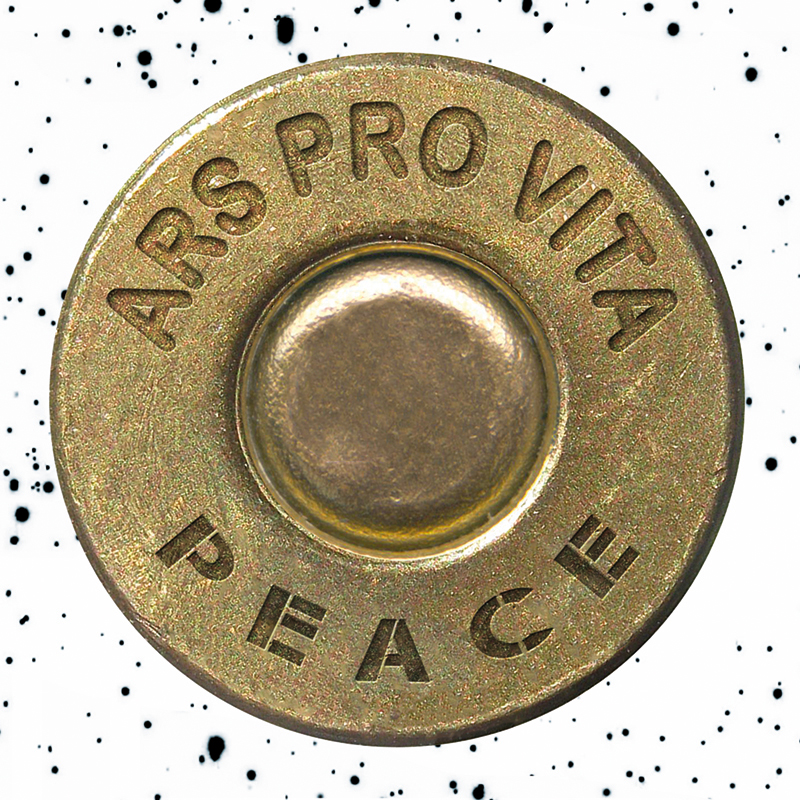 PROG ARCHIVES
JUN 27, 2021
BY SERPENTINE1801
The Venegas Brothers set up a big circus inviting many musicians from all over the world to speak on the theme of War. To name just one, Jon Camp, former Renaissance bassist. No prog addict could exist without knowing this guy. And a group of Brazilian singers with correct pronunciation and beautiful voices. I only know how to call this work a masterpiece (!!!).
My God, 147 minutes!!! It is impossible to review the entire work, and I must mention some additional details. Being a double album that evolved in history, we traveled in time and the world with Luis and Paulo Venegas.
In the first CD painful moments like the Wounded Knee massacre, the horrors of the women of Auschwitz and the atom bomb. On the second CD we find the modern war and the problem of landmines, sung by the Blackheart Orchestra duo (Chrissy Mostyn's voice is almost a Kate Bush) the killer drones and the memory of Srebrenica. Interesting addition of ethnic themes and instruments that accompany this work.
The male voices I was able to identify as the brothers remind me a lot of a young Peter Gabriel and his current huskier voice. This is an interesting detail. Luis has a sweeter and more melodic voice. Paulo has power and a delicious hoarseness. They're not from the Island, but deserve a positive commentary. I just wonder where Ars Pro Vita's next job is going. Just to make it clear, Peace is a masterpiece.
PROG CENSOR
NOV 13, 2020
BY CICÉRON
progressive symphonic / fresco rock-147'19 - Brazil '20 - For their 2nd album, the two brothers Venegas invited many musicians to evoke war through the ages... in 23 beaches! This is called a masterpiece. And it's not far from being: the first CD is close to faultless, the first CD is more homogeneous, offering less evocative power. 2 CDs leading us from Wounded Knee, to current Syria, to Yprés, Auschwitz, Hiroshima, Srebrenica, etc.
The universality of the subject is well put into perspective by using collages, sometimes local language voice overs and traditional instruments. The whole thing is magnified by a very inspired symphonic prog. I always struggle with patchwork albums, but here the whole is totally consistent despite the multiplicity of means employed. Ars Pro Vita offers us 147 minutes of a time and space trip, sensitive, humanistic and documented. There's "The Wall" in intentions! I suggest jumping at the end of the post on their Bandcamp, to return better, with the music, to this column, where you dropped it... so here!
I will not be able to talk about each of the 23 tracks here. Here are 3 milestones.
It starts with #1 "War is Peace" (citing Orwell's "1984") whose first 3 minutes offer a Camel-style instrumental, then a first insert: foray of the real (there's some everywhere in the album). The voice (a little too tampered?) of the singer is quite theatrical, (fortunately this voice will sound like Peter Gabriel's). He shares singing with crystal clear female voices. It's full of instruments, the rhythm is majestic, in opposition to this other vocal insert covering boot noises "I am war, delighted to meet you". Then we leave the Camel Universe to get closer to Genesian guitars before the track doesn't end. Already! Excellent opening... By the way you still listen to it (13'), or you read very slowly!
#7 "Hiroshima", we open on a Japanese flute, then arrive piano and singer. This voice serves a slow, very beautiful track interrupted by radio inserts from bombers, before a more muscular, somewhat Genesian cover ' 78.
#10 "Vietnam", where the collage takes a little too much on the music. Then a guitar / organ duo slides significantly towards Crimson (whose Schizoid also mentioned Vietnam). Powerful.
You have 20 more runways left to land during these space-time jumps... Have a nice flight!
DUTCH PROGRESSIVE ROCK PAGE (DPRP)
NOV 8, 2020
Have you ever wondered how The Final Cut could have sounded if Roger Waters would have taken more time to conquer his enormous frustration that almost spoiled that album totally? I had never even thought about it before. But that probably absurd thought settled in my mind when I started to listen to Peace, the new 2cd set from Brazilian proggers Ars Pro Vita. I just couldn't help to pose that challenging, almost tantalizing question. But don't get me wrong, that thought was tantalizing in the most positive way for this double album is a truly remarkable musical journey, full of unexpected, diverse, original and eclectic ideas. Yes, it does have many reminiscences to classic songs and albums. And yes, not all is good, a few things are even quite bad but as a whole this double album is something that many proggers should listen to.
Porto Alegre based Ars Pro Vita are Luis Venegas on vocals and guitars and his brother Paulo on vocals and keyboards. They are accompanied by numerous musicians of which bass player Jon Camp of Renaissance fame is undoubtedly the most famous. Other musicians are Andressa Behenck and Carla Knijnik on vocals, Eduardo Aguillar (of Vitral) on bass, Kevin Brennan (Van Morrison), Yinhe Chen and Rui Zhang on storytelling, Luiz Zamith on guitar, Mike Mitchell on percussion and the The Blackheart Orchestra on vocals. This ambitious album took them more than two years of research, composing and recording of which they can be very proud of the result. Have a look at their website and dive into the lyrics of each song, almost always based around a quote of a witness of one of the gruesome wars we have seen in the last century and you'll see the sheer devotion and commitment these two guys have invested in this project.
The 23 tracks are much too different to review separately. Some tracks stand out, such as the opening song War Is Peace. This simply awesome track starts with a melancholic gypsy-like violin and evolves into a prog epic with many mood changes, different paces, fine guitar soloing and clever hooks. Somewhere halfway a full orchestra comes in to give the song the grandeur of a symphonic film score, augmented by the opera like singing. The following electric guitar solo with subtle piano playing in the background and the return of the gypsy violin emphasizes that this song is prog heaven with hints of Pendragon and Big Big Train. Too bad it doesn't last somewhat longer for it won't get any better.
Third song On Bibles And Cannons starts off with a military march as heard on an old transistor radio to develop as a full rip-off of Pink Floyd's When The Tigers Broke Free from The Final Cut with a similar vocal melody, style of singing and trumpets in the background. But some First Peoples chanting and a cleverly evolving vocal melody takes the listener away from the Pink Floyd memory to enjoy the fine music.
Exotic influences can be heard in A Handful Of Hope, a folky almost instrumental song with a prominent role for the banjo (?) and bamboo flute accompanying spoken Chinese lyrics. On the website the translation of each song can be found and the lyrics of this one are particularly horrifying. It is a miracle that they succeeded so well to blend these lyrics with the beauty of this combination of instruments.
Another folky song is Likasi with uillean pipes and violin playing a very fine melancholic melody. Too bad the last part of the song is spoken words with marching feet in the background, probably very appropriate but taking away the fine feeling about the music altogether.
The longest piece Block 24, First Floor is a very strange piece and therefore a real slow-burner. It is a strange combination of soundscapes with spoken words in different languages (German, Chinese) and some wordless chanting, all in a very slow pace. Hardly anything happens during the first ten minutes yet somehow the band manages to keep the listeners attention. For every two or three minutes the musical theme changes, the sound changes, the instruments change (mostly keys, some piano) and they do it in such a clever way that I came to the odd conclusion that this is a song I should dislike because of the lack of obvious diversity but instead I very much like. It sounds like an original sound track of a tv-series but then well elaborated.
In Vital Signs the album has a very fine ballad, beautifully sung and played that is a real resting point in this intriguing musical journey.
The March is a fully orchestrated instrumental piece of the central musical theme of the album. It sounds like a film score and should have been a more than worthy closer of the album. But this band does everything slightly different than others; the orchestra is faded away halfway and just the piano remains, playing that beautiful theme subtly towards the end you would think. But the real end is a 1-minute ticking of the clock that works well although I would have preferred to end the music with that fine piano.
As said, not all is good. Second song Shut Up And Shoot!!! for instance starts with Russian lyrics (…?) introducing a rather cacophonic musical piece with hints of jazz and lounge but it is foremost incoherent. Metus is a King Crimson-esque instrumental with odd chord sequences, some guitar riffing over a synth background and absolutely not my cup of tea.
Decay has an excellently sung beautiful vocal melody against a sparse instrumentation of acoustic bass and guitar but the song is completely spoilt by strange cracking noises, spooky synth sounds, incomprehensible Russian spoken words and a horrible end. Next song Curfew has a similar mood with a a sort of radio dialogue and again spooky synth sounds but now the music simply doesn't take off. There is some fine singing, then some distortion followed by a completely different vocal melody that ends in some more unclear sounds and below par singing.
Low point of the album is God Is Not Here – Part 2, a rather annoying piece with distorted spoken words coming from a "strange creature" and a very depressing and far too long summation of the war budgets of different states. Of course it's meant as a firm anti-war statement but for me it fails to do. The music accompanying all these words and amounts of money is simply not very exciting, to say the least. Oh, by the way, the USA spend the most on war.
But be sure that the good songs far outnumber the weak ones.
I value the band for trying to create something really different and adventurous. The different moods, brought about by the use of many different languages, sound clips of historical events and musical styles, the complex concept of war and peace and all the sufferings that go with them and the length of the 2cd set should make one prepared for a quite heavy musical meal to digest. Of course with such an ambition and inspiration some experiments work out well while others fail to do so. For instance, to my taste, less use of spoken words and sound clips would have favoured the expressiveness of the music. Sometimes it sounds more like a radio play than a music album. But to try experiments as an artist because you don't want to stay within the safe boundaries of what people like to hear is courageous.
The overall balance of this set is clearly positive and will appeal to those who liked Jeff Wayne's War Of The Worlds as well as lovers of more eclectic albums such as Pink Floyd's The Wall and Genesis' The Lamb Lies Down On Broadway. This set may not quite match the quality of those classic albums, but the daring decision to create a 2 cd set with so many different musical ideas makes this album a fine reference for future musical experiments in its own right. Add to this the high artistic quality of the printed lyrics and you can only be truly impressed by the achievement of the Venegas brothers, whether you like the music or not.
STEVE HACKETT (Genesis)
OCT 8, 2020
"I've now had the chance to listen to 'PEACE'. I enjoyed it and it has good musicianship as well a lot of atmosphere. I wish you all luck with the album and future projects.
All the very best, Steve."
IN ROCK
AUG 26, 2020
BY IVAN ROZMAINSKY
"Peace" is the second full-length studio album from the Brazilian project Ars Pro Vita, created by the Venegas brothers. Luis sings and plays the guitar, and Paulo sings and plays the keys too. A dozen guest musicians participated in the recording, one of which is Jon Camp, bassist of the "golden" line-up of Renaissance. Actually, what Ars Pro Vita is doing is somewhat reminiscent of "Renaissance" - it is mid-tempo and even sometimes slow music with a large role of instruments used in academic styles. But there are even more associations - at the level of melodies, mood and general "approach", especially "conceptuality" - with Pink Floyd's "The Final Cut" disc.
Haven't heard long concept albums for a long time? Then the album "Peace" of the Ars Pro Vita project is for you. Two and a half hours of concept music with concept lyrics in 23 numbers! About what? About the struggle for peace! The anthem of the Soviet Union, the mention of the Kalashnikov assault rifle, a large number of "speeches" in Russian and other languages ​​... "Give the world a chance, because the war does not need your help" - these words conclude the press release of the album.
At first it seemed that conceptuality had largely destroyed the music. After several listening, the sensations are different: excessive adherence to conceptuality, together with didacticism and moralizing, made the musical "statement" less focused and "catchy". At the same time, in no case should the musicians be denied compositional and arranging skills, the ability to write good melodies and, in general, "create beauty in music".
The crown jewel of the album is 18-minute "Block 24, First Floor", performed entirely in the style of 19th century academic music with leading female vocals, competing not with Yes or Camel, but with Wagner. Hardly worse is "Resolution 1004", based on choral music - a sublime and tragic anti-war chant, like a requiem. The majority of the "rock songs" of the album are of a much lower level, they are not free from a number of "late Pinkfloyd" cliches. If we cut the material down by at least a third and get rid of the Waters-style singing in some places in "The Final Cut" (and not only there), we could get a masterpiece. Anyway, if only female vocals sounded on the album, it would definitely be better ...
STREETCLIP
MARIO WOLSKI
JUL 29, 2020
"South America seems to me more and more to be a good place for music that doesn't care about mainstream and mass taste. For example, ARS PRO VITA come across the pond from Porto Alegre in Brazil. ´Peace´ is the name of their second album. It literally fills the evening, after all, the double CD contains 150 minutes of music. The duo ARS PRO VITA are the brothers Luis Fernando and Paulo José Venegas. Typically for Prog, of course, they reinforced themselves with different musicians.
The best known name is probably Jon Camp (ex-RENAISSANCE, on bass in ´War Is Peace´ and ´Hero´). The album title and the simple cover, the bottom of a cartridge, indicate that this magnum opus deals with the development of the wars from the 1870s to the present day. According to the content, there is always a dangerous, threatening, frightening undertone. Speech samples, narrative passages, noises, every scene is described in detail. But the abundance of textual and musical material prohibits going into too much detail here. I also think everyone should discover this work for themselves.
Still, here are a few highlights. For example 'On Bibles And Cannons', which tells of the genocide of the North American natives, based on the shaft at the Wounded Knee in 1890. In contrast, a Chinese spoken text in 'A Handful Of Hope' tells of the horrors of the Japanese occupation of Nanjing in 1936/37.
But ARS PRO VITA go further, the Holocaust is thematized using a brothel in the Auschwitz extermination camp. One cannot imagine what must have happened in ´Block 24, First Floor´. The line "Love has left me" is an example of the horrors of the Third Reich. Despite the abundance of beautiful sound, ARS PRO VITA are far removed from any feel-good program from the SPOCK'S BEARD brand. ´Peace´ shakes, hurts, affects, for example when ´Drone´ tells about the everyday life of a drone pilot, for whom modern warfare hardly differs from a game with a controller and a joystick.
One can best compare it with VAN DER GRAAF GENERATOR, or the Italians AREA. In another place, PINK FLOYD or GENTLE GIANT come into play. In addition, a little early GENESIS, vocally you can often hear a certain closeness to the young Peter Gabriel, and modern serious music. In a few places, ARS PRO VITA get to the point too late, there a few lengths creep in. These are the places where the listener may be distracted but shouldn't be. But overall this album is a more appropriate preoccupation with the subject of war than I feel with SABATON. Precisely because the focus here is on horror and not any heroism. I always see tanks in Tiananmen Square, not on stage.
The final track in this form is not just a final gag, but leaves the listener pensive."
Progressive Rock Fanatics
sTEPHEN CONRAD
"Like Precious Gems Strewn Upon a Brute Battle-Ground"
JUL 10, 2020
"The Waltzes -
The waltz, that sublime dance, those graceful whirls and gentle-men, bowing, acknowledging the gowned belles, then going off only to return…Seeded through the carnage of brothels of Auschwitz, the trenches of World War Eternal, the children given guns and drugs so they can kill and continue and kill and continue…In This Bloody Scream. The jarring contrast between the magisterial sweeps of symphonic progressive music and the evil-incarnate of men in suits and power ties adding up their billions, the women leaning in and cutting up the pie baked in human flesh, armaments, mines, drones-
This Bloody Scream -
We are masters and mistresses of hate, murder, corruption, greed, lust, torture, and destruction. We humans have studied it, turned it inside out, identified it as hell, as 'war is hell', as endless insanity: War is Peace. The brothers of ARS PRO VITA (Art For Life) and their assembled cast of musicians and spokes-people have woven the kind of musical tapestry that thread by thread weaves the madness of war upon the loom of untold trillions of ready cash generated by some unholy force, and traced by the sinews and limbs of young women and men, grandmothers and grandfathers, widows, orphans, slowly or quickly losing what little they once may have had.
147 Minutes -
A very long time for the listener accustomed to less intense, more succinct fare, progressive or otherwise. Yet a very short time in the overall catalogue of horrors known to humanity if one considers the sweep of centuries, and the battles and conflicts and wars and engagements that have engulfed this blistered, frozen planet. 147 minutes of a masterpiece of progressive rock music, and excellent addition to ANY music collection, from around the globe, and with the maximum effect, challenging us with every note, every sound, every effect, to consider, to feel, to cringe, to LOOK and to HEAR what humans perpetrate upon humans.
Like a Cry from the Heart -
Perhaps you, like so many seem to do, worship the god of war, thrill to the battle march, the crisp flags fluttering, the soldiers in formation, the thin patriotism that thanks for their service and turns away when they return broken and scarred- and perhaps you can remain untouched, perhaps even offended by this stunning cry from the heart.
I cannot. -
The waltzes alone, strewn as they are in the mud and the blood, demand attention. For me, this is essential: a masterpiece of progressive rock music, an excellent addition to ANY music collection."
Sven Schreiber
JUL 3, 2020
"An ambitious 2½-hour magnum opus of first-class prog rock from Brazil, fighting for the good cause of worldwide peace and an end to all suffering. The music draws from the heritage of 70's symphonic art rock in a very enchanting way. Remember Jon Camp of "Renaissance"? He plays the bass here. Good to see that he's still involved in music. Favorite track: Vital Signs."